_1
please read faq and product page(s) description first
_2
name your audio files to e.g. A1, A2, A3.. B1, B2 itp. - corresponding to A & B sides of your record(s). note that we don't change spaces between the tracks. if you want to have more silence between them, please let us know. also, check tracks total lenght per side and do not exceed maximum values (optimal and maximum values are discussed in product pages)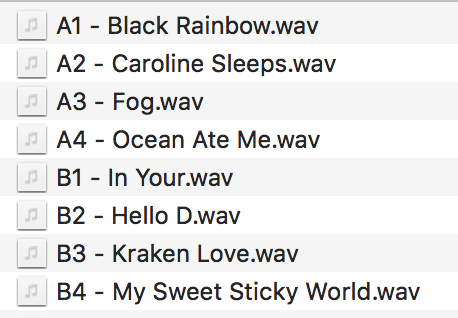 _3
(optional) prepare your graphic files - instructions and templates are downloadable from product pages. if something is not clear - ask!
_4
all the files along with copryright statement (print+fill+scan one of these should be zipped and sent via service like wetransfer or similiar. you can use google drive's direct link or dropbox direct link too (easy).
do NOT send attachments in email (they will be deleted by server), do NOT send separate links to each track etc., do NOT send files from services that you need to wait to download or have tons of spam, malware and anything like that (rapidshare for example). and please do NOT try to "share" drobox folder with us (or anything that needs login to account). keep it clean and simple.
_5
use address order@beevinyl.com for sending files and info:

- how many records?
- color? (or custom color?)
- size (e.g. 7", 12", custom itp.)
- recording speed (33 / 45rpm)
- copyright statement
- link to the files
- full shipping address (name, street/number, city, postal code, country, phone) and preffered shipping type
- and anything more you want to add and ask of course!

we will reply in one working day - checking your files, sending you quote and +/- production date
if everything is confirmed, paypal invoice/request will be sent

*